Money Boost participant in various affiliate programs, which means we may receive a commission for various links and advertisements shown in this post and across the Money Boost website
It's surprising to think that Amazon Prime has been with us now for over fourteen years!
Unlimited next day delivery, Film and TV Boxsets, Music, Magazines, Unlimited Photo Storage, eBooks – are just some of the benefits of having an Amazon Prime membership.
I have been an Amazon Prime member for over ten years now, almost from the very beginning. I have seen a lot of changes, enhancements and also some frustrations.
I will share with you my experiences and explain whether Amazon Prime really makes good on the hype.
If you're in a hurry and just want to check out the Amazon Prime Benefits – you can sign up for a free 30 day trial with this link!
Free next day deliveries were really the game changer for Amazon.
It catapulted them above all other online retailers still charging for delivery, and a wait time of 5 working days for delivery common.
Today it's possible to order some products as late as midnight, and still receive the item the next day!
Is Amazon Prime worth it?
Amazon Prime is worth it if regular purchases are made from Amazon. Together with free movies, boxsets and Amazon exclusive programmes increase the reward value of a membership. Free eBooks, magazines, unlimited photo storage and access to Amazon Prime Sales gives customers much for their money.
An Amazon Prime membership, at time of writing, costs £7.99 per month or £79.99 for an annual membership – meaning an annual membership provides the equivalent of 2 months for free.
The best way to see if an Amazon Prime membership is worth it for you, is to look in detail at the benefits.
If these are costs you are already paying out for with other service providers or companies, and you could save money and receive the same benefits, or even more benefits, then it really is time to start.
Fortunately, Amazon Prime offer a completely free 30 day trial (which you can access with this link here) which means you can try out the free next day delivery, movies, and boxsets and all the other benefits without spending a penny!
If you're not happy with the service, or you don't find it of value, then simply cancel anytime within the first 30 days and not only will you continue to enjoy all the benefits for the remainder of the 30 days, but you won't pay anything.
It's risk free.
It is worth taking a look at the benefits in details, just to see what exciting new things you could get with an Amazon Prime membership.
Amazon Prime Benefits Review
Over the past 14 years the benefits of an Amazon Prime membership have steadily grown in number.
Each new benefit encourages more signups and more sales for Amazon.
As Amazon are one of the wealthiest and biggest companies on the planet, this gives them a lot of ability to offer more and more incentives and enticements to customers.
For customers it really is a win-win.
Here are the main membership benefits and what you can expect:
Amazon Free Unlimited Next Day Deliveries
This genius decision by Jeff Bezos ultimately, in at least a main part, created one of the biggest companies of the world.
This and the decision to open up the Amazon product range into the biggest marketplace in the world allowing other retailers and supplies to fill the long tail gap Amazon were not fulfilling themselves.
Amazon provide customers with free next day delivery on thousands of products.
So, what products can you get free next day delivery on?
Free next day delivery is available on products sold by or distributed by Amazon that are in stock. Products sold and distributed by third party companies arrange their own deliveries which may be free as part of the Prime membership program, but on average will take 2-5 days to arrive.
The time in which you can order products until, and still get next day delivery, depends on where the item is stocked, planned deliveries in your area and whether logistically Amazon can deliver the product too you.
Of course, picking, packing and distribution continues 24 hours a day 7 days a week across the Amazon distribution network.
If Amazon can logistically get your item to you the next day, they will.
How to check whether the product from Amazon will arrive before you buy?
The easiest way is to check the product list on Amazon.
They clearly show whether the product is sold and distributed by Amazon, just distributed by Amazon or whether the product and sold and distributed by a third party company.
They also show when the product is likely to be delivered.
Here is an example of a product which is guaranteed for next day delivery:
Here is an example of a product which has a longer delivery time: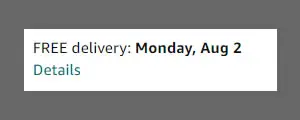 Is free Amazon Prime delivery worth it?
If more than 10 orders online with Amazon each year, it will likely be worthwhile having Amazon Prime just to save on the delivery and shipping costs alone.
If though you only place a couple of orders with Amazon each year, you need to decide whether the other benefits as part of the membership provides other benefits to make it worthwhile.
Amazon Prime Video – Movies, Boxsets and Amazon Exclusives
You may have heard of Amazon prime Video, but what exactly is it?
Amazon Prime Video is a free streaming TV and film service from Amazon available for Amazon Prime members.
Amazon Prime Video is Netflix's biggest competition on the UK, and it certainly puts up a good rivalry.
As well as some top movies Amazon has invested in exclusive boxset series, such as Carnival Row, Vikings, The Man in the High Castle, Leonardo, Outlander and many more.
All of these, and thousands of other TV series and films are free for Amazon Prime members.
As well as free videos, there are a number of paid streaming films and TV series that Amazon have within its catalogue.
It did start to feel as if Amazon had a habit of recommended just the paid for films and TV series on the home screen but based on feedback over this issue, they have added a 'Free to Me' button.
Hit this and all you will only see the free TV series and films available as part of the Prime subscription.
This can be really useful as it means everything you see you will be able to watch without any additional cost and replicates the view on Netflix where everything you see is free to stream.
Is Amazon Prime Video better than Netflix?
This is completely subjectional based on your own tastes.
Netflix certainly appear to offer a larger number of newer film releases although often you will see old films appearing in the Top 10 Watch lists.
Having both an Amazon Prime and Netflix subscription, I personally find myself flicking through Amazon Prime for something to watch more often than I do Netflix.
But this of course is personal choice.
Amazon Prime Video certainly have their fair share of new release titles to watch.
You can watch Amazon Prime Videos on many devices, these include:
Smartphone
Tablet
PC or laptop
Amazon Fire TV
Amazon Fire Stick
Roku
Smart TV with access to the Amazon Prime app
This isn't an exhaustive list but covers the most popular ways of watching TV.
What is good is you can start watching something on one device, stop the video and then pick up where you left off on another device straight away.
One further direct comparison between Amazon Prime Video and Netflix is how Netflix's focus is on US films and TV programmes, whereas Amazon as well as offering a number of US films and TV programmes also have started to focus on local UK content too.
Series such as The Grand Tour, Clarkson's Farm, The Great Escapists, Great British Theatre and more have been exclusively made by Amazon for, in the main, a British audience.
Sport on Amazon Prime Video
Another distinct plus for the Amazon Prime Video service is the recent inclusion of sport documentaries and events.
If fact, there is now a Sports section dedicated to live events, sport documentaries and sport related films and TV series.
This has included a small selection of live and full coverage of English Premiership Football games, as well growing live coverage of various tennis tournaments.
As well as live coverage many of the events are available as replays too.
Documentaries include Le Mans: Racing is Everything, Sergio Ramos, Andy Murray Resurfacing, Venus and Serena, All or Nothing: Tottenham Hotspurs, All or Nothing: Manchester City and many more.
These are well put together, though provoking behind the scenes documentaries Amazon have put together, and so are exclusive to Amazon Prime members.
All of this as part of your standard Amazon Prime Video membership.
If this is not enough to see the value in a membership, there are few more benefits to go through before you decide.
Amazon Music Prime
The list of benefits continues, and we're only just getting started.
Amazon Music Prime gives members 2 million songs to stream, and all are ad free!
It's worth noting that Amazon also have Amazon Music Unlimited as an additional subscription service giving its subscribers access to 75 million ad free songs.
So, although Amazon Music Prime is a cut down music streaming service that may not be able to compete with the latest titles on Amazon Music Unlimited (or competitors such as Spotify or YouTube Music) there are still a huge number of playlists, compilations and albums by top artists available to listen to.
You can download songs to your smartphone or tablet via the Amazon Music app and play offline whilst you're travelling.
If you have an Amazon Echo you can even ask Alexa to play songs for free with Amazon Music Prime through your Prime subscription!
Amazon Prime Day
Twice a year Amazon put on a huge sale day, called Amazon Prime Day.
Exclusive for Prime members it promotes heavy discounts for everyday items.
There are certainly thousands of products that are reduced in price for a limited amount of time, and many people find some great bargains, but it perhaps isn't one of the biggest reasons to take out a membership.
That said, the best deals on Amazon Prime Day are on Amazon's own braded technology products such as Kindles, Amazon Fire TV and Fire Sticks, Echo Dots and smart home devices such as Echo show and Ring Video Doorbells.
These products can be as much as 50% of the standard price.
Just two or three of these bought could mean your Amazon Prime membership pays for itself.
Prime Reading – Free Magazines and eBooks
Prime Reading is another benefit for Amazon Prime members giving them free access to read a selection of ebooks and magazines.
Now, Amazon also run Amazon Kindle Unlimited membership, which is an additional subscription service giving users access to millions of free ebooks and magazines, which can be downloaded to Kindles, tablets, laptops and smartphones and read online or offline.
What's the different between Prime Reading and Kindle Unlimited?
There are two distinct differences between Prime Reading and Kindle Unlimited.
Prime Reading is free as part of an Amazon Prime membership whereas Kindle Unlimited is an additional paid for service
Although both services offer ebooks and magazines to be read, the Amazon Kindle Unlimited service has a much wider and larger selection of titles
The Prime Reading service can be considered a cut down version of the Kindle Unlimited service, but both services work in a very similar way.
Although it's a reduced version of the Kindle service, there are some great titles and authors that can still be read with Prime Reading.
At time of writing (summer 2021) here are some of the titles that can be read for free as part of the Prime membership:
Harry Potter and the Philosopher's Stone – JK Rowling
Don't Turn Back – D.S. Butler
Rogue – J.B. Turner
Only Time Will Tell – Jeffrey Archer
The Lost Soul of the City – Dean Koontz
Women's Weekly Magazine
BBC Good Food Magazine
Woman Magazine
BBC Countryfile Magazine
Of course, books and magazine titles change frequently to keep things interesting, and to always give Prime members something new to read.
These books and magazines can be read on a smartphone, tablet, PC or laptop, as well as a Kindle device.
Amazon Photos – Unlimited Photo Storage
Surprisingly this is a benefit that many Prime customers don't use, and often don't even know about!
An Amazon Prime membership provides unlimited free photo storage backup for all your precious photo memories.
5GB of video storage space is included too!
As a comparison, if you were to store more than 2 GB of photos and up to 2 TB of photos with Dropbox it currently costs £9.99 a month or £95.88 a year!
Just this service alone could save money – and it's the Prime benefit often overlooked.
The great thing about Amazon's Unlimited Photo Storage service is that this is Amazon, not only is trust a given, but it means you can view your photos across all sorts of devices such as smartphones, tablets, Smart TVs running the Amazon Prime app, Echo Show and more.
Amazon Prime Value – Real Service Comparison
To see whether Amazon Prime is worth it, it's also useful to compare each of Amazon Prime's benefits against other competitors services and prices.
Here is our analysis at a close competitor, their service comparison and costs:
[table id=17 /]
Is Amazon Prime Worth It – In Conclusion
With so many benefits and features it's hard to see how Amazon isn't worth the £7.99 per month or £79.99 annual fee price.
Free fast delivery, music, films, TV box-sets, unlimited photo storage plus ebooks and magazines – all for less than the price of two coffees each month!
If you're still not convinced you can take out a completely, and risk, free 30 day trial to test it all out for yourself before you commit. The 30-free day trail offer is available via here