The 25% off 6 bottles of wine offer is one of the more popular offers supermarkets across the UK hold.
It's particularly popular around Christmas time!
Almost all of the main supermarkets offer some kind of wine deal, and Money Boost have been keeping an eye on the sales, dates, wines on offer, where best to find the best 25% off wine deals and expected dates across all the supermarkets for 2022.
We all have a wine favourite. Proseccos are particularly popular, and everyone likes to raise a glass of champagne at Christmas time, and fortunately a selection of both – along with very popular red and white wines from around the World, are included in the offers.
Let's take a look at each of the UK supermarkets wine offers and when to find them for the remainder of 2021.
Top Tip: A FREE bottle of Prosecco is on offer at the Sunday Times Wine Club!
Supermarket 25% Off 6 Bottles of Wine Dates for 2022
Here are the expected dates for the 25% off wine promotion across all supermarkets for 2021:
[table id=18 /]
Let's take a look at each of the supermarkets in turn, more details around the 25% off 6 bottles of wine offer and what you're likely to expect.
Asda 25% Off Wine Offer
Asda, who have been voted the lowest priced of the major supermarkets for many years, offer lots of 25% wine offer throughout the calendar year!
Expected Asda 2022 wine offer dates:
19th August to 29th August 2022
21st October to 24th October 2022
2nd December to 5th December 2022
When do Asda offer their 25% off wine?
Bank holidays, Halloween and Christmas are when Asda usually have their 25% off 6 bottles of wine offer. Many wines greater than £4.75 a bottle, are usually included in the deal. Christmas period is included although often the offer ends by the 7th December. There are up to 5 offer periods per year.
The great news is you can shop online for this offer as well as shop instore.
It's worth signing up for the Asda newsletter which will remind you when the 25% off 6 bottle of wine offer is on!
Dates are not announced in advance by Asda, but based on previous sales across Summer, Autumn and Winter these dates are likely.
Tesco 25% Off Wine Offer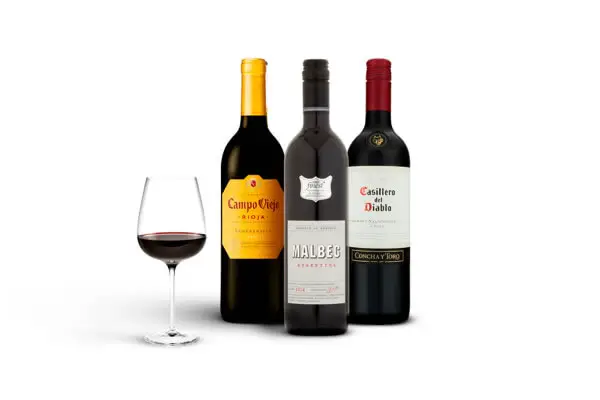 The Tesco 25% off 6 bottles of wine off happens at various times of the year but can be predicted based on past sale date.
Expected Tesco 2022 wine offer dates:
23rd August to 26th August 2022
18th October to 21st October 2022
29th November to 2nd December 2022
Top Tip: It is worth noting that the 25% off wine offer is only available to Tesco Clubcard holders. Joining Tesco Clubcard is absolutely free, so it's well worth signing up today and that way you're ready for the next wine offer!
Usually, Tesco wine offers coincide with UK bank holidays as well as Halloween and Bonfire night, as well as just before Christmas.
The great thing about the Tesco 25% off wine offer is the number of wines included. Lots of wine priced £5 or more are included in the offer.
You can shop online or shop in-store, and both generally have a great selection – although offer stocks are limited, so it's best to get in early if you can!
Sainsbury's 25% Off Wine Offer
The Sainsbury's 25% off 6 bottles, or more, or wine is one of the most popular offers and sales the Sainsbury's chain offer both online and instore.
Expected Sainsbury's 2022 wine offer dates:
24th August to 29th August 2022
26th October to 30th October 2022
30th November to 4th December 2022
Delicious wines such as Canti Prosecco and Sainsbury's own Albarino are included. Both of these wines have excellent reviews and some of the first to be snapped up.
Over 60 wines are included in the promotional 25% off offer and up to 36 bottles can be purchased at any one time.
Like many of the supermarkets, the Sainsbury's 25% off wine offer is usually on during bank holiday weekends, and seasonal periods such as Halloween and Christmas.
Just remember, the Christmas sales only last until the beginning of December – so if you plan to stock up for Christmas, you'll need to do so early!
Lidl 25% Off Wine Offer
With many of the supermarkets offering this deal, it wasn't going to take long before Lidl also followed suit.
Unfortunately, Lidl has only offered this promotion once, which was back in 2019.
Why Lidl chose to end this offer is anyone's guess. Perhaps the promotion wasn't particularly success or maybe they felt the margins too small on the already low price quality wine couldn't support the further discount.
At Money Boost we are monitoring the 25% off wine sales regularly.
The next Lidl 25% off 6 bottles of wine offer, if it is repeated, will be featured here along with some of the wines on offer.
Even though they do not regularly run this promotion they do have regular wine sale and offers as part of the Lidl Super Weekend.
These generally run alongside bank holidays. Look out for the Christmas offers too!
Morrison's 25% Off Wine Offer
Morrison's have just started promoting, as of June last year, the 25% off 6 bottle of wine offer!
Morrison's included hundreds of wonderful wines in the promotion, so it was definitely worth the wait.
As well as the 25% off wine offer, they also run a 2 for £10 on wine offer.
Based on this promotion a bottle of Veluti Pinot Grigio, usually priced at £7.50 can be bought for just £5.00 a bottle when purchased in multiples of two.
This means 6 bottles of wine can be purchased at Morrison's for £30 instead of the usual £45 – which is a saving of 34%!
We're excited to see what Morrison's have in store with their new promotions and wine offers.
As Morrison's have had no previous 25% off sales before June 2021 it's difficult to predict the next dates for 2022, but we expect these to follow the pattern of the major three supermarkets so it is well worth looking out for the 25% off wine offer during late August, late October and early December.
Aldi 25% Off Wine Offer
Unfortunately, Aldi, although now one of the most shopped in supermarkets in the UK, have never run the famous 25% off 6 bottles of wine offer.
We did though find selection of wines with up to a 17% sale and offer price.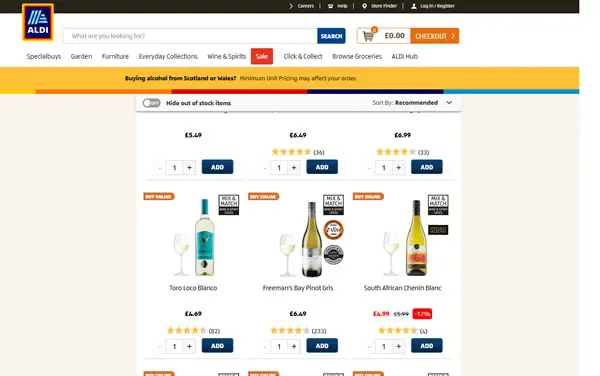 Although there were not many, and not all sales were offered up to 17%, you could mix and match the wine in the offer to create up to 17% off 6 bottles of wine at Aldi.
You may see the Aldi Mix and Match offer, but this isn't a sale or offer price on 6 bottles of wine. It is simply a way of ordering online and having them delivered to you. Six bottles are the minimum order level.
M&S Food 25% Off Wine Offer
Although M&S Food ran the 6 bottles of wine offer periodically, it so far didn't run in 2021 and no dates scheduled for 2022, but it isn't to say that it won't!
As of 5th August 2021, M&S had 14 bottles of wine on sale with up to 34% off!
Fortunately, with this sale, there were no minimum of 6 bottles required. You could claim the discount on just one bottle purchase.
M&S certainly, along with our last supermarket below, are renowned for their selection of the finest and highest quality of wine. In quantity as well as selection variety.
If M&S launch their 25% off 6 bottles or more offer again, we will publish the details here.
Waitrose 25% Off Wine Offer
Waitrose run the 25% off 6 bottles of wine regularly.
Expected Waitrose 2022 wine offer dates:
3rd August to 7th August 2022
2nd November to 6th November 2022
Update: The last date this was run was between Wednesday 4th August to Sunday 8th August 2021, with 87 different wines and beers included in the promotion.
The Valdo Oro Puro Prosecco Superiore a particular favourite!
The Waitrose 25% wine deal runs is often run at different times to the other supermarkets, who tend to promote this during bank holidays, but instead runs during March or April, again in July or August and finally early November.
Unlike the other supermarket chains, Waitrose do not usually run this 25% off wine promotion during December, so if you would like to stock up for Christmas, you will need to do so in November!
Christmas 25% Off Wine Offer
Almost all the supermarkets run 25% off wine promotions near to Christmas.
Due to the increased demand a week or two before Christmas normally the sales happen early in December before the peak of Christmas food and drink shopping, and they on average run between the 1st and 7th December.
Supermarkets that include the Christmas 25% off 6 bottles of wine promotion include Tesco, Sainsbury's, and Asda.
The Waitrose Christmas wine offer only runs until early November.
Many of the supermarkets have at least 50 different wines, Prosecco's, and Champagne during the offer and all can be found online as well as instore.
Quantities can vary from store to store of course.
The Christmas period is by far the busiest for online wine offer shopping, so it's important to start as early as possible to make sure you manage to find all the wines you need to make your Christmas toasts go with a smile!
Frequently Asked Questions
Here are some of our reader's questions that may be of help:
How long do the 25% off 6 bottles of wine offer last?
The supermarkets wine offers on average last between 4 and 7 days depending on the supermarket and the time of year.
Can you order the 25% off wine offer for click and collect and home delivery?
Yes, the 25% off wine offer is available for both click and collect and home delivery. You may be asked to show age identification, so make sure if you do arrange a click and collect that you take ID with you.
Do you need to be a Tesco Clubcard holder for the 25% off 6 bottle of wine offer?
Yes, a Tesco Clubcard is required to take advantage of the 25% off wine offer. Signing up for a Tesco Clubcard is not only quick and easy but is also free!
25% Off 6 Bottles of Wine – In Conclusion
Look out for the 2022 Tesco wine offers around bank holidays and holiday seasons.
Usually, the wine offers start a couple of days before the bank holiday and run across the weekend.
Although there is usually plenty of stock for customers, you may find popular wines sell quickly – and especially around Christmas time.