There are so many people who want to start entering the world of blogging.
Some because they want to make money online by blogging, and some because they simply feel they have something to say and share.
The main issue holding many potential aspiring bloggers back is because they do not want to show their face.
But, can you blog without showing your face? Yes, is possible to create a successful blog without showing your face. Written blogs are easier to stay anonymous but it is possible with a video blog. 78% of internet bloggers do not show their face yet many are earning a full time income.
The truth though is that thousands and thousands have put together successful blogs earning thousands of pounds and have never once showed their face.
In this post we will look at examples of successful blogs, YouTube channels and Pinterest accounts where you never once see the bloggers face.
We'll also reverse engineer what they have done, to help you learn the tips, tricks and techniques they are using to build an audience, get lots of visitors and traffic, all whilst remaining anonymous behind the scenes.
How to Blog Without Showing Your Face – Case Study
The easiest way to blog without showing your face is through a written blog, such as a website.
With a website blog your visitors are more interested in the content you write, and what you have to teach or show them, than they are about you as a person.
It can vary slightly from niche to niche of course.
For example, someone offering make up tips will usually need to include some photos, but even then, if you have the knowledge and can show people the very best ways of applying foundation to match their skin type, you can explain how to in written form, and use stock photos for the visual element.
If you're serious about making money online you should read our

How to start a profitable blog

guide, packed full of advice, tips and inspiration!
On the other hand, if you want to teach people how to boost your income, make money online through side hustles and passive income, or help people start a business – like we do here at Money Boost – you'll see we have no photos of the team here.
We're not purposefully trying to be secretive, but we want the focus of the content we show, reviews we make and make money methods we teach to be all about the content – not us!
The Money Boost blog receives thousands of readers, just like you, every month and not once have we felt the need, or even been asked, to show photos of us to the world.
So, choosing the right niche can be really important and the type of blog you want to have.
Types of Blogs
Although there are many platforms out there give content to the world, these can be broken down in to three types of blogs:
Website blog – Written Blog
YouTube Channel – Video Blog
Instagram or Pinterest – Visual and Photo Blog
Creativity comes in to play if you want to create a YouTube channel. YouTube is a platform that can see the earliest traffic growth for a blogger, with videos reaching people often in a couple of weeks, compared to 6-8 months on a brand new website blog.
If though you are not much of a writer but enjoy creating eye catching designs or have a wonderful photography or craft hobby and want to share this with the world, then Pinterest and Instagram may be better suited to you.
Let's take a look at some of the types of blogs available, and some examples of actual blogs with good amounts of visitors and traffic, yet the bloggers face is never shown.
Examples of Faceless Blogs
It's so much easier to explain with examples.
Money Boost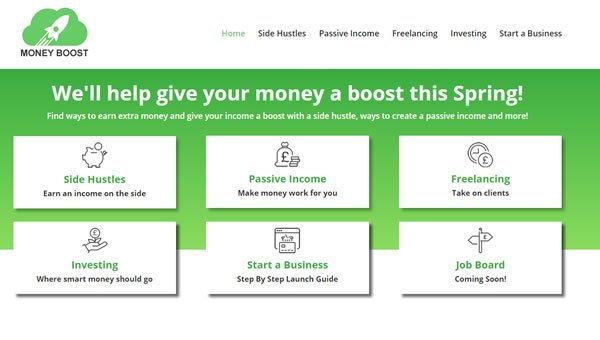 We couldn't possibly show an example of a popular faceless blog without immediately thinking of our own.
The Money Boost blog was built first and foremost with the reader in mind. Our goal is to teach and show as many people as we can how to boost their income, make passive income, save and invest as well as how to start their own profitable business.
You'll notice that throughout our pages we don't have any photos of the founders or the crew.
It's all about you, not us!
The Points Insider
The Points Insider is Money Boost's sister site.
If you want to know how to fly business class for free or collect enough points to enhance your flight and cabin experience, they teach you everything you need to know.
They also receive thousands of visitors every month but again are a faceless blog. They prefer to focus on the content and the help, rather than themselves, but still bring a good visitor experience.
Examples of Faceless YouTube Channels
YouTube is a different blogging experience altogether and can sometimes be referred to as a vlog – which is short for 'video blog'.
As YouTube is all about videos, you need to be able to visually engage with your audience.
The most famous YouTubers, such as Pew Die Pie, almost always show their face in front of the camera.
They themselves are their brand, and people subscribe because they like them or can easily relate to them, as much as subscribing because of what they have to say.
That said, I am about to show you some examples of YouTubers with more than 100,000 subscribers, who have never shown their face in front of the camera – proving it's possible to start a faceless YouTube blog or channel!
Here are some real life case studies and examples of faceless YouTubers getting millions of views:
Cat Trumpet
A slightly unusual name perhaps, but the Cat Trumpet channel hosts a number of relaxation videos. Ambient music as well as HD nature videos or photos.
The Cat Trumpet channel gets millions and millions of views through their creative videos, and not once do we see Cat trumpet's face!
As at time of writing they have 422,000 subscribers and their videos regularly reach over 100,000 views, and in one case over 12m! (check out the 3 Hours of Amazing Scenery video)
dP Art Drawing
If you haven't seen the absolutely incredible works of art from dP Art Drawing – you need to check them out.
Hundreds of amazing quality art are put together in a sequence of flipbooks. As simple as this sounds, the quality is off the charts – no wonder these videos are watched and shared as much as they are.
As of now the dP Art Drawing channel has over 1.4 million subscribers, and the Thanos vs Iron Man video now has over 14m views!
Examples of Faceless Instagram Channels
Instagram – and even Pinterest – are a perfect middle ground to those who don't like writing, but also don't want to appear in front of the camera.
It really does give you the best of both worlds.
Visitors to photo and image based blogs are looking for the amazing photographs and designs you want to share, not a bunch of pouting selfies, unless of course you're a celebrity!
Photographers can do amazing well on platforms such as Instagram. It lends itself beautifully to photographer bloggers.
These can help you become established in your field or may be great to boost your own confidence in your abilities – or just because you feel you have some really great photos to share.
Here are some examples of popular Instagrammers who don't show their face.
Mads Peter Iversen Photography
Although you can find the odd photo or two of Peter floating around, you will find him concentrating more on his beautiful scenic photographs than himself.
Inspired by a love of fantasy movies and games, his pieces are amazing works of art.
Today his Instagram account is followed by 897,000 people.
Daquan
You may have heard the news stories of the recent purchase by Warner Music for IMGN Media for an eye watering $85m (£63m).
Part of the sale included popular Instagram account, Daquan. This, a faceless Instagram channel, grew to a 15m audience before it's acquisition.
Although at the time of sale Dacquan had 15m subscribers, this has since increased to 16.4m subscribers, probably as a result of the news stories and public awareness because of the sale.
The Instagram account is nothing but a collection or memes and photo funnies, but with such a huge reach and audience, Warner Music saw a young audience to be able to listen to, understand the demographics and audience as well as an instant platform to promote break out and new artists on their roster.
Frequently Asked Questions – Blogging Without Showing Your Face
Can anonymous bloggers actually make money?
Anonymous bloggers can make a lot of money. Anonymous bloggers put more focus on the content they produce than promoting themselves. An informational blog helping others can be very valuable in the right niche, targeting the right audience.
Can you use a pen name for a blog?
Absolutely you can use a pen name for a blog. You do not need to use your real name. You may want to protect your personal identity. It is common for journalists and professional writers to use a pen name, so using a pen name for a blog is perfectly ok.
How can you grow your YouTube channel if you don't show your face?
In order to grow a faceless YouTube channel, you need to be very creative. The channel creator will need to provide a reason for an audience to consume their content. Videos need to be engaging, original and entertaining in order to increase subscribers.
Should I show my face on my YouTube channel or website blog?
Whether you choose to show your face on your YouTube channel or blog is personal preference. It does not matter for a website blog, or Instagram, but you may find gaining an audience more difficult on YouTube, depending on your niche.
If, for example, you were teaching people how to draw or paint, you could easily get away with just showing your drawing pad, or canvas. This way only your hands will need to be in view.
In Conclusion
Many people worry about showing their face on their blog.
It may be due to shyness, wanting to remain private or just don't want their employers to know about a blog or YouTube channel they may be working on in their spare time.
Whatever the reason this shouldn't stop you want to move forward with your own blog.
Starting a blog today won't get you there as fast as if you started yesterday – but it will get you there faster than if you start tomorrow!