Each year many of us compare our car insurance renewal prices against other car insurance companies to see who can offer us the best deals. This usually happens with all our other insurances too.
With so much switching and changing every year so many people are now asking how to remember who your car insurance is with.
The best way to remember who your car insurance is with is to download an insurance reminder app (for example the Wimi Insurance Reminder App). The free app will show you who your car insurance is with and it will also notify you when your car insurance is coming up to renewal date.
Knowing who your car insurance is provided by will save you time and a lot frustration when you need to make a query or make a claim.
Many insurance policies are dealt with online only and trying to search for insurance policies using online email tools like Yahoo and Hotmail will show you nothing but adverts and every marketing email containing the word 'insurance'.
A reminder app – like the Wimi Insurance Reminder app – not only stores your car (and other) insurance details but it will remind you when your insurance policies are coming up for renewal.
Why is it important to remember when your car insurance policy is due for renewal?
It's important to know when your car insurance policy is due for renewal, so you have the opportunity to look for an alternative provider and price.
Have you ever noticed that your insurance policy dramatically increases after the first year at renewal time?
This is by no accident, and it rarely is a fault of yours (unless you've had an accident of course).
A low initial price is a way for many car insurance companies can lure you in. Almost every insurance policy is automatically set to auto-renew. It's something you have the power to request it is switched off, but it's rare people actually bother to do this.
The insurance companies know that around 58% or more of car insurance policies will simply auto-renew to the next year (at often over-inflated renewal costs).
A reminder when your car insurance policy is due for renewal can often be the trigger you need to look at next year's quote from your current car insurance provider and look for a better deal.
Quote -> An insurance reminder through an independent app could be the difference between paying the renewal price or saving an average of £268 by switching to a cheaper deal
Review of Wimi – The Insurance Reminder App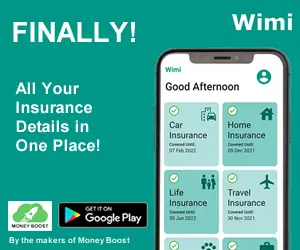 It would be terribly unfair for the writers here at Money Boost to write an impartial review of Wimi because Wimi has been developed by our Money Boost technical developers.
The Wimi app stores all your insurance policies (including car, home, pet, life, travel and income) so all your policies are together in one place – plus Wimi will remind you through notifications when each of those policies is approaching renewal date.
As much as we love the app, we are not going to review it as such. I'm sure we would be unintentionally biased anyway!
Instead I will share you the links to the Wimi app and the Wimi promotional website for you to see for yourself:
How to find your insurance policy in your email inbox?
If you have used the Wimi app and have your insurance policy number, you can use this number to search your email inbox.
This will give you a much more targeted search and should only show you emails related to your policy – rather than any email in your inbox with the name 'insurance' or 'car insurance' within.
If your inbox is full of marketing emails like ours you'll see how many emails containing 'insurance' are returned!
If though you would prefer not to download the app there are a couple of ways you can track down your insurance policy in your email inbox.
#1 Find your car insurance policy by date
If you know roughly when you took out your car insurance policy, you can search your email inbox by the dates your emails were received.
A much narrower search view should hopefully help you find the email from your car policy provider faster.
#2 Look for patterns in regular car insurance provider emails and newsletters
Often when you take out a new car insurance policy you are often included on regular newsletters and email updates.
Look for regular weekly or monthly newsletters from certain car insurance providers and this may help you narrow down who your car insurance policy is with.
#3 Changing your car insurance search criteria to find your policy
Instead of searching for generic terms such as 'insurance' or 'car insurance' try to be a little more specific to help your email provider know what exactly you are searching for.
Perhaps try searching for 'insurance policy' or 'car insurance policy' instead.
Although you may receive numerous car insurance related marketing emails, many of those often don't include the word 'policy'.
Narrow down your search phrase can help you find your car insurance policy provider
#4 Search your inbox using your car registration number to find your insurance policy
In reality the only emails you will often receive with your car registration number will be from your car insurance provider, your breakdown cover company or perhaps the odd fine or two! (of course, that doesn't apply to any of us).
If you search your email inbox with your car registration number you results should include just a small number of emails – which hopefully will be enough to help you remember who your car insurance is with
In Conclusion
Our obvious and potentially biased solution is to go download Wimi and have all your insurance details in one place.
If though this is not for you hopefully our suggestions of tracking down your policy details within your email inbox will help you.
Remember though, whatever you do – compare with quotes rather than auto-renew!